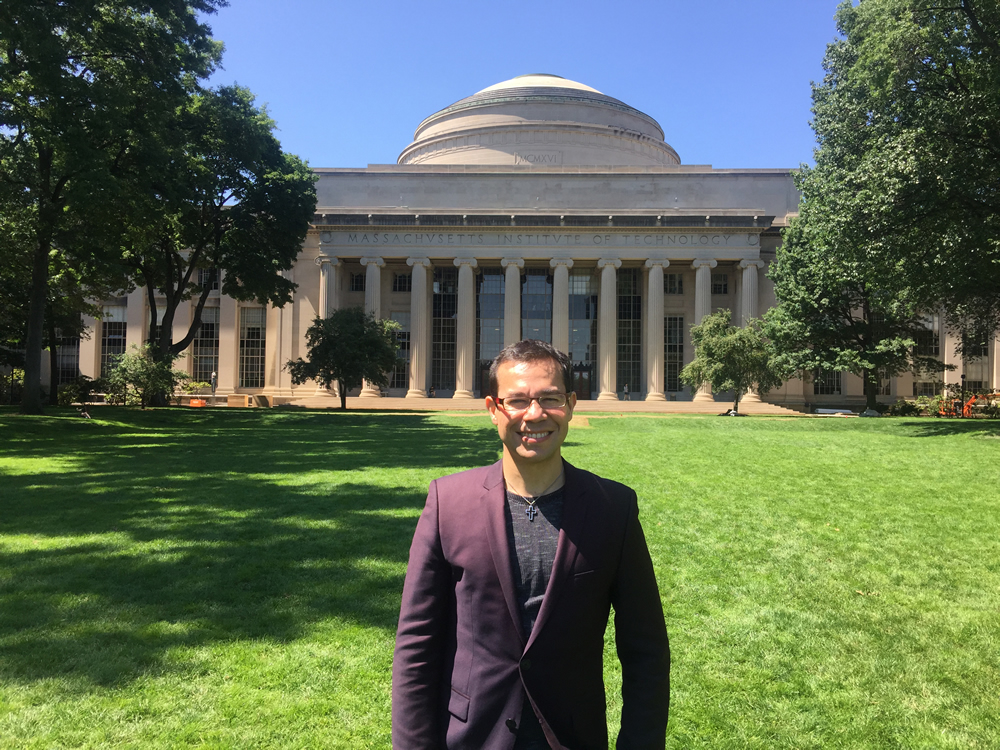 MIT-Tec Strategic Alliance
Antecedentes
La Nanociencia y la Nanotecnología impactarán significativamente en los mayores retos de nuestra sociedad.
La Iniciativa MIT.nano es la mayor apuesta de investigación de las Escuelas de Ciencias e Ingeniería del MIT para atender estos retos, integrando el trabajo de +2,000 investigadores, tal como afirma el Rector del MIT el Dr. Rafael Reif: "La Nanociencia y Nanotecnología son piezas fundamentales de la Innovación en el mundo actual. Son herramientas básicas para dar respuesta a los mayores problemas que enfrentamos como sociedad".
Objetivo
Establecer una colaboración estratégica con MIT y su iniciativa MIT.nano, que permita potencializar la investigación del Tecnológico de Monterrey en áreas asociadas a este proyecto.
El proyecto impulsa las capacidades científicas en el tema de Nanotecnología en colaboración con los grupos de investigación más prestigiosos del mundo.
Alcance
La colaboración con MIT se centra a temas relacionadas con Nanotecnología y Nanociencias.
La alianza con el MIT contribuye a:
Desarrollar y atraer recursos humanos de calidad mundial.
Potenciar la producción científica y el liderazgo científico de los investigadores del Tec de Monterrey
Impulsar la creatividad y el aprendizaje activo para aprovechar la red de conocimiento tecnológico más sofisticada del mundo.
Desarrollar mayores competencias y capacidades para enfrentar la competitividad industrial, la sostenibilidad ambiental y mejorar la calidad de vida de las personas.
As part of the alliance that exists with MIT, the students and professors of Tec de Monterrey can apply to different calls to make a summer stay, research stays and scholarships to participate in intensive workshops.
2018
-
- TEC.NANO, TEACHERS, POSTDOC AND DOCTORATE STUDENTS  


- EXTRAORDINARY TEC, TEACHERS, POSTDOC AND PHD STUDENTS


- RESEARCH SUMMER STAY FOR PROFESSIONAL STUDENTS  


- INTENSIVE MICRO AND NANO MANUFACTURING WORKSHOP FOR RESEARCH TEACHERS, POSDOCTORAL RESEARCHERS AND DOCTORATE STUDENTS

2017
- TEC.NANO, TEACHERS, POSTDOC AND DOCTORATE STUDENTS  


- EXTRAORDINARY TEC, TEACHERS, POSTDOC AND PHD STUDENTS


- RESEARCH SUMMER STAY FOR PROFESSIONAL STUDENTS  


- INTENSIVE MICRO AND NANO MANUFACTURING WORKSHOP FOR RESEARCH TEACHERS, POSDOCTORAL RESEARCHERS AND DOCTORATE STUDENTS

2016
- TEC.NANO, TEACHERS, POSTDOC AND DOCTORATE STUDENTS  


- EXTRAORDINARY TEC, TEACHERS, POSTDOC AND PHD STUDENTS


- RESEARCH SUMMER STAY FOR PROFESSIONAL STUDENTS  

2015
- TEC.NANO, TEACHERS, POSTDOC AND DOCTORATE STUDENTS  


- RESEARCH SUMMER STAY FOR PROFESSIONAL STUDENTS  

Summer Workshop on Micro and Nanomanufacturing Techniques at MIT for Professional Students
Year
Name
Campus
Career
2015  
Viridiana Leyva
Monterrey
Nanotechnology and Chemical Sciences Engineer
2015
Bertram Peterson
Monterrey

Sustainable Development Engineer

2015
Juan Fernando Gómez Granados
Monterrey
Industrial Physical Engineer
2015
José Antonio Márquez Arzamendi
Toluca

Mechanical Engineer Administrator

2015
José Pablo de la Rosa
Cuernavaca
Mechanical Engineer Administrator
2015
Brissa Romero
Cuernavaca
Mechanical Engineer Administrator
2015
José Angel Meléndez Corona
Laguna
Mechanical Engineer Administrator
2015
Gonzalo Águila Flores
Querétaro
Mechanical Engineer Administrator
2015
Edgar Ledezma
Monterrey
Mechanical Engineer Administrator
2015
Eric Ricardo Carreón Ruiz
Monterrey
Mechanical Engineer Administrator
2015
Gerardo García Marcos
Monterrey

Chemical Engineer Administrator

2015
Fernando García Escobar
Monterrey
Nanotechnology and Chemical Sciences Engineer
2015
José Eric Ortiz Castillo
Monterrey
Nanotechnology and Chemical Sciences Engineer
2015
Samuel Castro
Monterrey
Nanotechnology and Chemical Sciences Engineer
2015
Israel Hernández
Cuernavaca

Mechatronics
engineer

2015
Raúl Jiménez
Querétaro

Mechatronics
engineer

2016
Nahieli Preciado
Monterrey
Nanotechnology and Chemical Sciences Engineer
2016
Monserrat Martínez Cordero
Saltillo
Mechatronics
engineer
2016
Gabriela Torres Flores
Monterrey
Nanotechnology and Chemical Sciences Engineer
2016
Paula Wagner Egea
Ciudad de México

Biotechnology Engineer

2016
Erick Iván Duque González
Monterrey

Mechatronics engineer/Industrial Physical Engineer

2016
Luis Mauricio Carrales Cázares
Monterrey

Innovation and Development Engineer

2016
Jorge Antonio Ayala Urbina
San Luis Potosí
Mechatronics engineer
2016
Luis Eduardo Arévalo Oliver
Ciudad de México
Bio Medicine Engineer
2016
Luis Fernando Sosa Flores
Monterrey

Chemical Engineer 

2016
Bernardo Montiel
Monterrey
Electronic Systems Engineer
2016
César Pérez Mireles
Monterrey

Sustainable Development Engineer

2016
Fernando Ordorica Esquivel
Estado de México
Mechatronics engineer
2016
Emmanuel Nieto Casarrubias
Ciudad de México

Telecommunications and Electronic Systems Engineer

2016
Gustavo Adolfo Lara Sánchez
Monterrey
Industrial Physical Engineer
2016
Zazil Sosa Romo
Ciudad de México

Bio Technology Engineer

2016
Diana Valeria Martínez Rojas
Monterrey

Industrial and Systems Engineer

2017
Polett Quiñones Busquets
Querétaro

Bio Technology Engineer

2017
Pablo Iván Martínez Berumen
Monterrey
Industrial Physical Engineer
2017
Edgar Ramírez Sánchez
Monterrey
Industrial Physical Engineer
2017
Irving Edwin Ramírez Chávez
Querétaro
Ingeniero Mecánico Administrador
2017
Patricia Angeli Sosa Silva
Monterrey

Bio-medical engineer

2017
David Barragán Alcántar
Monterrey
Mechatronics engineer
2017
Erick Armando Monreal Reyes
Estado de México
Mechatronics engineer
2017
Diego A. Sandoval
Monterrey
INQ
2017
Norma Patricia Garza Flores
Laguna

Bio Business Engineer

2017
Diego Rubén Machain Rivera
Monterrey
Industrial Physical Engineer
2017
Diana Laura González Hernández
Monterrey
Industrial Physical Engineer
2017
Mariana Sofia Flores Jiménez
Guadalajara
Bio Medicine Engineer
2017
Oliver Santos Carmona
Cuernavaca
Mechatronics engineer
2017
José Patricio Reyes Lorenzo
Ciudad de México
Mechatronics engineer
2017
Erika López Lara
Puebla
INQ
2017
Ricardo de Jesús Castillo Torres
Guadalajara

Electronic Technology Engineer

2018
Daniel Augusto Ortuño González
Monterrey
BEP
2018
Brandon Ortiz Casas
Ciudad de México

Bio Technology Engineer

2018
Andrés Benjamín Sánchez Alvarado
Monterrey
BNC
2018
Lorena Vega
Monterrey

Chemical Engineer Administrator

2018
Héctor Valente Soto Carrillo
Laguna

Bio Business Engineer

2018
Naim Bulos Ramírez
Monterrey

Nanotechnology and Chemistry Engineer

2018
Ernesto Wagner Egea
Ciudad de México

Bio Technology Engineer

2018
Montserrat Rubio Téllez
Querétaro
Mechanical Electrical Engineer
2018
Andrés García Rubio
Monterrey
Mechatronics engineer
2018
Bruno González Soria
Estado de México

Bio Technology Engineer

2018
Juan Antonio Fernández de la Garza
Monterrey
BEP
2018
Armando Santiago Carboney
Monterrey
BNC
2018
Francisco Alejandro García Grajales
Querétaro

Mechanical Electrical Engineer

2018
Juan Manuel Ledesma Rangel
Querétaro

Digital Systems and Robotics Engineer

2018
Ana Paula Ortega Portugal
Toluca

Biotechnology Engineer

2018
María Valeria Nevárez Ontiveros
Laguna

Bio Business Engineer
| Date | Name | Position | GIEE | MIT-Research Professor |
| --- | --- | --- | --- | --- |
| 2015-2016 | Rodrigo Balam Muñoz | Research Professor | Bioprocesses and Synthetic Biology | Joel Voldman |
| 2015-2016 | Mario Álvarez | Research Professor | Cellular and Bioreaction Engineering | Ali Khademhosseini |
| 2015-2016 | Gerardo Castañón | Research Professor | Telecomunication and Networks | Rajeev Ram |
| 2015-2016 | Grissel Trujillo | Postdoc | Nanotechnology for Device Designs | Ali Khademhosseini |
| 2015-2016 | José Guillermo González | Postdoc | Bioprocesses and Synthetic Biology | Scott Manalis |
| 2015-2016 | Daniel Olvera | Postdoc | Nanotechnology for Device Design | Luis Fernando Velasquez |
| 2015-2016 | Israel Martínez | Postdoc | Nanotechnology for Device Design | Jongyoon Han |
| 2015-2016 | David Ibarra | Postdoc | Advanced Manufacturing | Brian Anthony |
| 2016-2017 | Claudia V. Leyva | Professional student-INCQ | - | Jongyoon Han |
| 2016-2017 | José Erick Ortiz Castillo | Professional student- INCQ | Sensors and Devices | Joel Voldman |
| 2016-2017 | Diego Ríos Aguirre | Master Studen-MSE | Sensors and Devices | Joel Voldman |
| 2016-2017 | Edgar Ledezma Zavala | Master Studen-MSM | Automotive Consortium | Brian Anthony |
| 2016-2017 | Lorena Berrón Cadenas | Master Student-MSE | Sensors and Devices | Rohit N. Karnik |
| 2017-2018 | Brenda García Farrera | PhD Student-DCI | Nanomaterials | Luis Fernando Velasquez |
| 2016-2017 | Erika García López | Postdoc | Advanced Manufacturing | Luis Fernando Velasquez |
| 2016-2017 | Samira Hosseini | Postdoc | Sensores y Dispositivos | Joel Voldman |
| 2016-2017 | Roberto Parra Saldívar | Research Professor | Emerging Technologies and Molecular Nutrition | Ali Khademhosseini |
| 2017-2018 | Ricardo Esteban Roberts Ugrinovic | Postdoc | Robotics | John Hart |
| 2017-2018 | Imperio Anel Perales Martínez | Postdoc | Nanotechnology for Device Design | Luis Fernando Velasquez |
| 2017-2018 | Luis Marcelo Lozano Sánchez | Postdoc | Nanotechnology for Device Design | Gang Chen |
| 2017-2018 | Emmanuel Segura Cárdenas | Postdoc | Nanotechnology for Device Design | Luis Fernando Velasquez |
| 2017-2018 | Alan Osiris Sustaita Narvaez | Research Professor | Nanotechnology for Device Design | Luis Fernando Velasquez |
| 2017-2018 | Gustavo Hernández | PhD Student-DBT | Emerging Technologies and Molecular Nutrition | Joel Voldman |
| 2017-2018 | Karla Margarita Gámez Pérez | Research Professor | Industrial Engineering and Numerical Methods | Josué Velázquez |
| 2018-2019 | Joel Carlos Huegel | Research Professor | - | Hugh Herr |
Participants in Workshop of NanoLab at MIT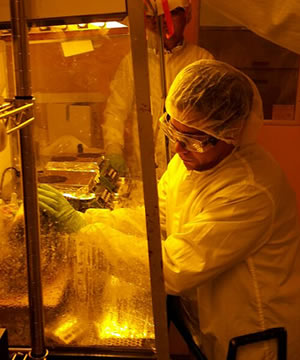 | Name | Position | GIEE | Date |
| --- | --- | --- | --- |
| Oscar Martínez | Professor | Nanotechnology for Device Design | February 2015 |
| Gerardo Castañón | Professor | Telecomunication and Networks | February 2015 |
| Ciro Rodríguez | Professor | Advanced Manufacturing | February 2015 |
| Alex Elías | Professor | Nanotechnology for Device Design | February 2015 |
| Héctor Siller | Professor | Advanced Manufacturing | February 2015 |
| Marcelo Videa | Professor | Optics and Lasers | February 2015 |
| Mario Álvarez | Professor | Cellular and Bioreaction Engineering | February 2015 |
| Horacio Ahuett | Professor | Automotive Consortium | February 2015 |
| Jorge Luis Cholula Díaz | Professor | Optics and Lasers | April 2016 |
| Ernesto Rodríguez Leal | Professor | Robotics | April 2016 |
| Salvador Venegas Andraca | Professor | Optics and Lasers | April 2016 |
| Hugo Elizalde Siller | Professor | Energy and Climate Change | April 2016 |
| Rafael Mendoza Crespo | PhD Student | Robotics | April 2016 |
| Bárbara Arévalo | PhD Student | Energy and Climate Change | April 2016 |
| Brenda García Ferrara | PhD Student | Nanomaterials | March 2017 |
| Marcelo Lozano | PhD Student | Nanotechnology for Device Design | March 2017 |
| Felipe Robledo | Postdoc | Emerging Technologies and Molecular Nutrition | March 2017 |
| Emmanuel Segura | Postdoc | Advanced Manufacturing | March 2017 |
| Alan Sustaita | Professor | Nanotechnology for Device Design | March 2017 |
| Sergio Camacho | Professor | - | March 2017 |
| Francisco Javier Delgado | Professor | Optics and Lasers | March 2017 |
| Arturo Elías Aguilar Rabiela | PhD Student | - | 2018 |
| Ixchel Ocampo Silva | PhD Student | - | 2018 |
| Mariana Soledad Bretado de los Ríos | PhD Student | - | 2018 |
| Berenice Vergara Porras | Professor | - | 2018 |
| Carmen Hernández Brenes | Professor | - | 2018 |
| Marco Arnulfo Mata | Professor | - | 2018 |
| Dulce Viridiana Melo Máximo | Professor | - | 2018 |
| Year | Subtype | Title | Source |
| --- | --- | --- | --- |
| 2018 | Article | Chloroperoxidase-mediated halogenation of selected pharmaceutical micropollutants | Catalysts |
| 2018 | Article | Lung and heart sounds analysis: State-of-the-art and future trends | Critical Reviews in Biomedical Engineering |
| 2018 | Article | Sustainable silicon photovoltaics manufacturing in a global market: A techno-economic, tariff and transportation framework | Applied Energy |
| 2018 | Article | Synthesis and characterisation of highly interconnected porous poly(ε-caprolactone)-collagen scaffolds: a therapeutic design to facilitate tendon regeneration | Materials Technology |
| 2018 | Chapter | Biomimetic orthopedic materials | Orthopedic Biomaterials: Advances and Applications |
| 2018 | Conference Paper | Engineering Education 4.0:-proposal for a new Curricula | IEEE Global Engineering Education Conference, EDUCON |
| 2018 | Review | Electrochemical biosensors: A solution to pollution detection with reference to environmental contaminants | Biosensors |
| 2018 | Review | In-ear medical devices for acoustic therapies in tinnitus treatments, state of the art | Auris Nasus Larynx |
| 2018 | Review | Microfluidics technology for drug delivery: A review | Frontiers in Bioscience - Elite |
| 2017 | Article | 3D printed multiplexed electrospinning sources for large-scale production of aligned nanofiber mats with small diameter spread | Nanotechnology |
| 2017 | Article | Bioprinted Osteogenic and Vasculogenic Patterns for Engineering 3D Bone Tissue | Advanced Healthcare Materials |
| 2017 | Article | Electroencephalographic evaluation of acoustic therapies for the treatment of chronic and refractory tinnitus | BMC Ear, Nose and Throat Disorders |
| 2017 | Article | Emerging Trends in Micro- and Nanoscale Technologies in Medicine: From Basic Discoveries to Translation | ACS Nano |
| 2017 | Article | Engineering a sprayable and elastic hydrogel adhesive with antimicrobial properties for wound healing | Biomaterials |
| 2017 | Article | Engineering Biodegradable and Biocompatible Bio-ionic Liquid Conjugated Hydrogels with Tunable Conductivity and Mechanical Properties | Scientific Reports |
| 2017 | Article | In vitro and in vivo analysis of visible light crosslinkable gelatin methacryloyl (GelMA) hydrogels | Biomaterials Science |
| 2017 | Article | Rapid Continuous Multimaterial Extrusion Bioprinting | Advanced Materials |
| 2017 | Note | Paper and fiber-based bio-diagnostic platforms: Current challenges and future needs | Applied Sciences (Switzerland) |
| 2017 | Review | Anti-Ebola therapies based on monoclonal antibodies: current state and challenges ahead | Critical Reviews in Biotechnology |
| 2017 | Review | Interplay between materials and microfluidics | Nature Reviews Materials |
| 2017 | Review | Spatially and temporally controlled hydrogels for tissue engineering | Materials Science and Engineering R: Reports |
| 2016 | Article | A new statistical method of assigning vehicles to delivery areas for CO2 emissions reduction | Transportation Research Part D: Transport and Environment |
| 2016 | Article | Additively manufactured MEMS multiplexed coaxial electrospray sources for high-throughput, uniform generation of core-shell microparticles | Lab on a Chip |
| 2016 | Article | Chitosan-functionalized poly(lactide-co-glycolide) nanoparticles: Breaking through the brain´s tight security gateway | Bioinspired, Biomimetic and Nanobiomaterials |
| 2016 | Article | Delivery strategies to control inflammatory response: Modulating M1-M2 polarization in tissue engineering applications | Journal of Controlled Release |
| 2016 | Article | Hemodynamic pattern recognition during deception process using functional near-infrared spectroscopy | Journal of Medical and Biological Engineering |
| 2016 | Article | Hybrid Microscopy: Enabling Inexpensive High-Performance Imaging through Combined Physical and Optical Magnifications | Scientific Reports |
| 2016 | Article | Microengineered cancer-on-a-chip platforms to study the metastatic microenvironment | Lab on a Chip |
| 2016 | Article | Overcoming design fixation: Design by analogy studies and nonintuitive findings | Artificial Intelligence for Engineering Design, Analysis and Manufacturing: AIEDAM |
| 2016 | Article | Strontium (Sr) and silver (Ag) loaded nanotubular structures with combined osteoinductive and antimicrobial activities | Acta Biomaterialia |
| 2016 | Article | Using simple models to describe the kinetics of growth, glucose consumption, and monoclonal antibody formation in naive and infliximab producer CHO cells | Cytotechnology |
| 2016 | Conference Paper | Energy consumption of communication systems using integrated nanophotonic devices | International Conference on Transparent Optical Networks |
| 2016 | Review | The hackathon model to spur innovation around global mHealth | Journal of Medical Engineering and Technology |
| 2015 | Article | Antibody derived peptides for detection of Ebola virus glycoprotein | PLoS ONE |
| 2015 | Article | Enrichment of the Cancer Stem Phenotype in Sphere Cultures of Prostate Cancer Cell Lines Occurs through Activation of Developmental Pathways Mediated by the Transcriptional Regulator ΔNp63α | PLoS ONE |
| 2015 | Article | New genetic loci link adipose and insulin biology to body fat distribution | Nature |
| 2015 | Article | Supercritical CO2 Foaming of Thermoplastic Materials Derived from Maize: Proof-of-Concept Use in Mammalian Cell Culture Applications | PLoS ONE |
| 2015 | Review | Synthesis, properties, and biomedical applications of gelatin methacryloyl (GelMA) hydrogels | Biomaterials |
| 2014 | Article | Building chinese cars in Mexico: The grupo Salinas-FAW alliance | Innovar |
| 2014 | Article | Fundamental studies in Design-by-Analogy: A focus on domain-knowledge experts and applications to transactional design problems | Design Studies |
| 2014 | Article | Landscape of genomic alterations in cervical carcinomas | Nature |
| 2014 | Article | The impact of carbon footprinting aggregation on realizing emission reduction targets | Flexible Services and Manufacturing Journal |
| 2014 | Conference Paper | Robust control applied towards Rendezvous and Docking | 2009 European Control Conference, ECC 2009 |