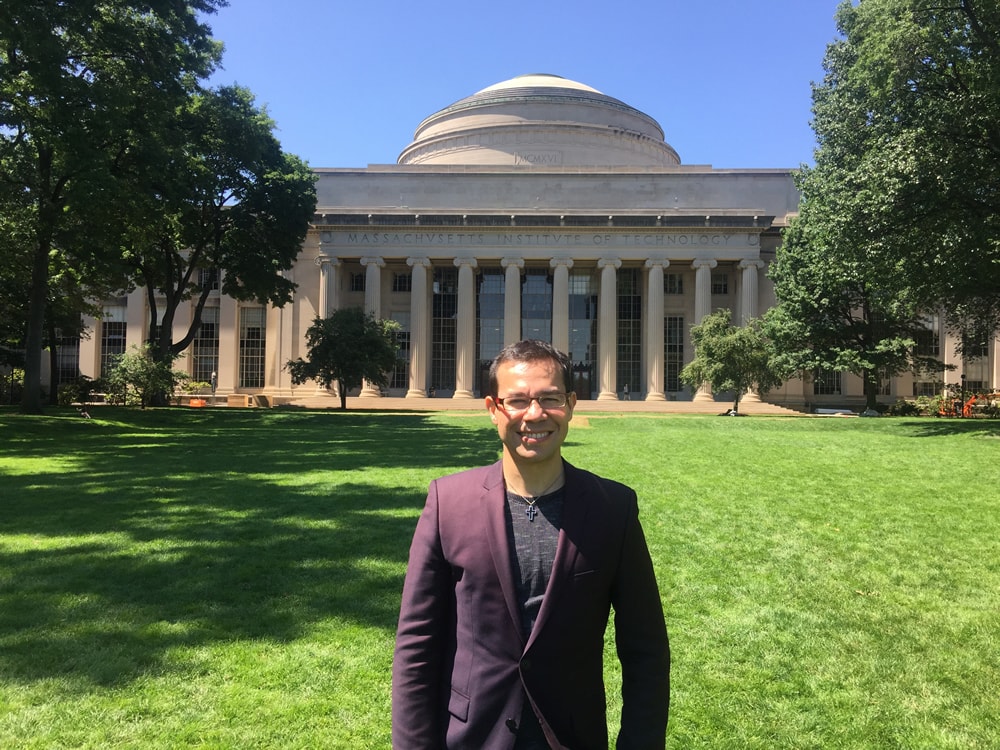 MIT-Tec Strategic Alliance
Background
Nanotechnology and nanoscience will impact significantly on the major challenges in our society.
The MIT.nano initiative is the major research investment of MIT's science and engineering schools to address these challenges, integrating the work of +200, 000 researchers and, as MIT president PhD. Rafael Reif states, "Nanoscience and nanotechnology are fundamental pieces of innovation in the present world. They are basic tools to give answers to the biggest problems we face as a society".
Objective
The objective is to establish a strategic collaboration with MIT and its initiative MIT.nano allowing Tecnológico de Monterrey to strengthen research in this project.
The project will drive scientific capabilities in nanotechnology in collaboration with the most prestigious research groups in the world
Reach of objectives
The collaboration with MIT focuses on issues related to Nanotechnology and Nanoscience.
Alliance whit MIT contribute to:
Developing and attracting highly specialized and world-quality human assets.
Maximizing the scientific production and leadership of Tec's researchers.
Boosting creativity and active learning to take advantage of the most important research network in the world.
Developing and improving proficiency and capacities to deal with highly competitive industry, environmental sustainability and the improvement of society's quality of life.
As part of the alliance that exists with MIT, the students and professors of Tec de Monterrey can apply to different calls to make a summer stay, research stays and scholarships to participate in intensive workshops.
2018
Tec.Nano, Teachers, Postdoc and Doctorate Students - Closed  
Extraordinary Tec, Teachers, Postdoc and Phd Students  - Closed
Research Summer Stay for Professional Students  - Closed  
Intensive Micro and Nano Manufacturing Workshop for Research Teachers, Posdoctoral Researchers and Doctorate Students  - Closed
2017
Tec.Nano, Teachers, Postdoc and Doctorate Students - Closed  
Extraordinary Tec, Teachers, Postdoc and Phd Students - Closed
Research Summer Stay for Professional Students - Closed 
Intensive Micro and Nano Manufacturing Workshop for Research Teachers, Posdoctoral Researchers and Doctorate Students - Closed
2016
Tec.Nano, Teachers, Postdoc and Doctorate Students  - Closed  
Extraordinary Tec, Teachers, Postdoc and Phd Students  - Closed
2015
Tec.Nano, Teachers, Postdoc and Doctorate Students  - Closed
Research Summer Stay for Professional Students  - Closed
| Date | Name | Position | GIEE | MIT-Research Professor |
| --- | --- | --- | --- | --- |
| 2015-2016 | Rodrigo Balam Muñoz | Research Professor | Bioprocesses and Synthetic Biology | Joel Voldman |
| 2015-2016 | Mario Álvarez | Research Professor | Cellular and Bioreaction Engineering | Ali Khademhosseini |
| 2015-2016 | Gerardo Castañón | Research Professor | Telecomunication and Networks | Rajeev Ram |
| 2015-2016 | Grissel Trujillo | Postdoc | Nanotechnology for Device Designs | Ali Khademhosseini |
| 2015-2016 | José Guillermo González | Postdoc | Bioprocesses and Synthetic Biology | Scott Manalis |
| 2015-2016 | Daniel Olvera | Postdoc | Nanotechnology for Device Design | Luis Fernando Velasquez |
| 2015-2016 | Israel Martínez | Postdoc | Nanotechnology for Device Design | Jongyoon Han |
| 2015-2016 | David Ibarra | Postdoc | Advanced Manufacturing | Brian Anthony |
| 2016-2017 | Claudia V. Leyva | Professional student-INCQ | - | Jongyoon Han |
| 2016-2017 | José Erick Ortiz Castillo | Professional student- INCQ | Sensors and Devices | Joel Voldman |
| 2016-2017 | Diego Ríos Aguirre | Master Studen-MSE | Sensors and Devices | Joel Voldman |
| 2016-2017 | Edgar Ledezma Zavala | Master Studen-MSM | Automotive Consortium | Brian Anthony |
| 2016-2017 | Lorena Berrón Cadenas | Master Student-MSE | Sensors and Devices | Rohit N. Karnik |
| 2017-2018 | Brenda García Farrera | PhD Student-DCI | Nanomaterials | Luis Fernando Velasquez |
| 2016-2017 | Erika García López | Postdoc | Advanced Manufacturing | Luis Fernando Velasquez |
| 2016-2017 | Samira Hosseini | Postdoc | Sensores y Dispositivos | Joel Voldman |
| 2016-2017 | Roberto Parra Saldívar | Research Professor | Emerging Technologies and Molecular Nutrition | Ali Khademhosseini |
| 2017-2018 | Ricardo Esteban Roberts Ugrinovic | Postdoc | Robotics | John Hart |
| 2017-2018 | Imperio Anel Perales Martínez | Postdoc | Nanotechnology for Device Design | Luis Fernando Velasquez |
| 2017-2018 | Luis Marcelo Lozano Sánchez | Postdoc | Nanotechnology for Device Design | Gang Chen |
| 2017-2018 | Emmanuel Segura Cárdenas | Postdoc | Nanotechnology for Device Design | Luis Fernando Velasquez |
| 2017-2018 | Alan Osiris Sustaita Narvaez | Research Professor | Nanotechnology for Device Design | Luis Fernando Velasquez |
| 2017-2018 | Gustavo Hernández | PhD Student-DBT | Emerging Technologies and Molecular Nutrition | Joel Voldman |
| 2017-2018 | Karla Margarita Gámez Pérez | Research Professor | Industrial Engineering and Numerical Methods | Josué Velázquez |
| 2018-2019 | Joel Carlos Huegel | Research Professor | - | Hugh Herr |
| Year | Subtype | Title | Source |
| --- | --- | --- | --- |
| 2018 | Article | Chloroperoxidase-mediated halogenation of selected pharmaceutical micropollutants | Catalysts |
| 2018 | Article | Lung and heart sounds analysis: State-of-the-art and future trends | Critical Reviews in Biomedical Engineering |
| 2018 | Article | Sustainable silicon photovoltaics manufacturing in a global market: A techno-economic, tariff and transportation framework | Applied Energy |
| 2018 | Article | Synthesis and characterisation of highly interconnected porous poly(ε-caprolactone)-collagen scaffolds: a therapeutic design to facilitate tendon regeneration | Materials Technology |
| 2018 | Chapter | Biomimetic orthopedic materials | Orthopedic Biomaterials: Advances and Applications |
| 2018 | Conference Paper | Engineering Education 4.0:-proposal for a new Curricula | IEEE Global Engineering Education Conference, EDUCON |
| 2018 | Review | Electrochemical biosensors: A solution to pollution detection with reference to environmental contaminants | Biosensors |
| 2018 | Review | In-ear medical devices for acoustic therapies in tinnitus treatments, state of the art | Auris Nasus Larynx |
| 2018 | Review | Microfluidics technology for drug delivery: A review | Frontiers in Bioscience - Elite |
| 2017 | Article | 3D printed multiplexed electrospinning sources for large-scale production of aligned nanofiber mats with small diameter spread | Nanotechnology |
| 2017 | Article | Bioprinted Osteogenic and Vasculogenic Patterns for Engineering 3D Bone Tissue | Advanced Healthcare Materials |
| 2017 | Article | Electroencephalographic evaluation of acoustic therapies for the treatment of chronic and refractory tinnitus | BMC Ear, Nose and Throat Disorders |
| 2017 | Article | Emerging Trends in Micro- and Nanoscale Technologies in Medicine: From Basic Discoveries to Translation | ACS Nano |
| 2017 | Article | Engineering a sprayable and elastic hydrogel adhesive with antimicrobial properties for wound healing | Biomaterials |
| 2017 | Article | Engineering Biodegradable and Biocompatible Bio-ionic Liquid Conjugated Hydrogels with Tunable Conductivity and Mechanical Properties | Scientific Reports |
| 2017 | Article | In vitro and in vivo analysis of visible light crosslinkable gelatin methacryloyl (GelMA) hydrogels | Biomaterials Science |
| 2017 | Article | Rapid Continuous Multimaterial Extrusion Bioprinting | Advanced Materials |
| 2017 | Note | Paper and fiber-based bio-diagnostic platforms: Current challenges and future needs | Applied Sciences (Switzerland) |
| 2017 | Review | Anti-Ebola therapies based on monoclonal antibodies: current state and challenges ahead | Critical Reviews in Biotechnology |
| 2017 | Review | Interplay between materials and microfluidics | Nature Reviews Materials |
| 2017 | Review | Spatially and temporally controlled hydrogels for tissue engineering | Materials Science and Engineering R: Reports |
| 2016 | Article | A new statistical method of assigning vehicles to delivery areas for CO2 emissions reduction | Transportation Research Part D: Transport and Environment |
| 2016 | Article | Additively manufactured MEMS multiplexed coaxial electrospray sources for high-throughput, uniform generation of core-shell microparticles | Lab on a Chip |
| 2016 | Article | Chitosan-functionalized poly(lactide-co-glycolide) nanoparticles: Breaking through the brain´s tight security gateway | Bioinspired, Biomimetic and Nanobiomaterials |
| 2016 | Article | Delivery strategies to control inflammatory response: Modulating M1-M2 polarization in tissue engineering applications | Journal of Controlled Release |
| 2016 | Article | Hemodynamic pattern recognition during deception process using functional near-infrared spectroscopy | Journal of Medical and Biological Engineering |
| 2016 | Article | Hybrid Microscopy: Enabling Inexpensive High-Performance Imaging through Combined Physical and Optical Magnifications | Scientific Reports |
| 2016 | Article | Microengineered cancer-on-a-chip platforms to study the metastatic microenvironment | Lab on a Chip |
| 2016 | Article | Overcoming design fixation: Design by analogy studies and nonintuitive findings | Artificial Intelligence for Engineering Design, Analysis and Manufacturing: AIEDAM |
| 2016 | Article | Strontium (Sr) and silver (Ag) loaded nanotubular structures with combined osteoinductive and antimicrobial activities | Acta Biomaterialia |
| 2016 | Article | Using simple models to describe the kinetics of growth, glucose consumption, and monoclonal antibody formation in naive and infliximab producer CHO cells | Cytotechnology |
| 2016 | Conference Paper | Energy consumption of communication systems using integrated nanophotonic devices | International Conference on Transparent Optical Networks |
| 2016 | Review | The hackathon model to spur innovation around global mHealth | Journal of Medical Engineering and Technology |
| 2015 | Article | Antibody derived peptides for detection of Ebola virus glycoprotein | PLoS ONE |
| 2015 | Article | Enrichment of the Cancer Stem Phenotype in Sphere Cultures of Prostate Cancer Cell Lines Occurs through Activation of Developmental Pathways Mediated by the Transcriptional Regulator ΔNp63α | PLoS ONE |
| 2015 | Article | New genetic loci link adipose and insulin biology to body fat distribution | Nature |
| 2015 | Article | Supercritical CO2 Foaming of Thermoplastic Materials Derived from Maize: Proof-of-Concept Use in Mammalian Cell Culture Applications | PLoS ONE |
| 2015 | Review | Synthesis, properties, and biomedical applications of gelatin methacryloyl (GelMA) hydrogels | Biomaterials |
| 2014 | Article | Building chinese cars in Mexico: The grupo Salinas-FAW alliance | Innovar |
| 2014 | Article | Fundamental studies in Design-by-Analogy: A focus on domain-knowledge experts and applications to transactional design problems | Design Studies |
| 2014 | Article | Landscape of genomic alterations in cervical carcinomas | Nature |
| 2014 | Article | The impact of carbon footprinting aggregation on realizing emission reduction targets | Flexible Services and Manufacturing Journal |
| 2014 | Conference Paper | Robust control applied towards Rendezvous and Docking | 2009 European Control Conference, ECC 2009 |